Modern exteriors - RPG Tileset [16X16]
71th update: Camping 22/?
---
update v9.6
The 'Camping' update serie gonna feature many classic camping scenarios along with new vegetation and versatile sprites.
~ Have marshmallows ready~
-
I'm trying to improve my tree skills, I plan to add several of them in the next couple of days
- Added a new tree and a couple of taller variations of the old ones
- Added some fruit hanging on many trees and some stacked fruit to place on the ground
- Added a couple of moss sprites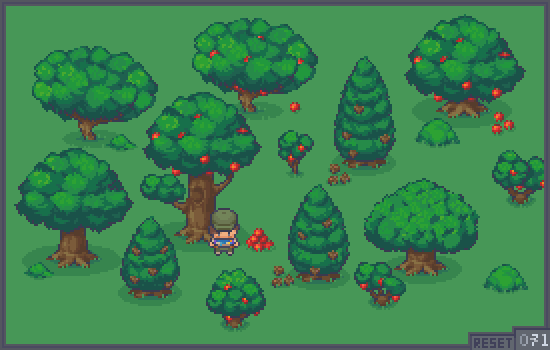 See you and happy game-making! :)
Files
Modern_Exteriors_v9.6.zip
25 MB
Aug 02, 2022
Get Modern exteriors - RPG Tileset [16X16]
Comments
Log in with itch.io to leave a comment.
You never fail to impress with your work
Love these different size trees ! And the fruits look real YUM too
Oh baby! We now have fruits, great!

this is perfect, thank you so much!
This will be very useful for the food war scene, thank you

Next update, I wonder maybe the lion, tiger, wolf XD
Thanks for all these great updates. Love the whole camping series. And it's always nice to have some big trees in different shapes. :)
Take care - and stay hydrated. ^^