Modern exteriors - RPG Tileset [16X16]
78th update: Camping 29/? + RPGM files
---
update v10.3
The 'Camping' update serie gonna feature many classic camping scenarios along with new vegetation and versatile sprites.
~ Have marshmallows ready~

We are approaching the end of the Camping series, but let's see if I can draw a couple of requests first! <3
- Designed and added a simple fishing boat (including 2 sides and 2 versions)
- Added a 8 frames floating animation to the fishing boat (2 sides 2 versions)
- Updated the RPG Maker files (from Tileset_23 to Tileset_29)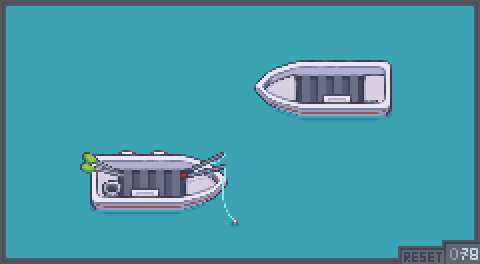 See you and happy game-making! :)
Files
Modern_Exteriors_v10.3.zip
26 MB
Aug 16, 2022
Get Modern exteriors - RPG Tileset [16X16]
Comments
Log in with itch.io to leave a comment.
Fun! but does it move? ;)
Is that boat suitable for whale fishing?
Nevermind, I'll just assume it is.

i think it's a bit too small x) where would you store the whale???
I was thinking of just using the cooler.
Go fishing with a cooler full of sodas, sodas out, empty cooler, whales in, ... profit?
These look amazing! :3 Never enough good boat sprites!
Thanks Oasis, I like boat sprites too because they aren't common at all to be found, even if drawing them is quite hard since they have weird shapes ehehe maybe that's the reason :x
When will you be making Halloween exterior stuff? Because i wanna make a short Halloween themed game this year but I'm not really happy with Halloween stuff I can currently find online.
Love these animated objects. It adds so much to the atmosphere when it's not just some characters walking up and down the street. Thanks again for your awesome tilesets. :D

Thanks Mara, I totally agree with you! We are in 2022 and we can't just have the characters as moving objects ehehe
duuuude! thank you! you're the best! those boats look really cool! I gotta think of more ideas and requests because you just keep doing them so fast! LOL. Thanks again!