Modern exteriors - RPG Tileset [16X16]
122th update: Metropolis 41/?
---
update v14.5
The "Metropolis" update series will include tons of new buildings and elements for your city, with the goal to supply a complete and realistic city tileset
more food carts in the next updates
- Added an empty food cart + 2 recolors
- Added a donuts food cart variation, a chips food cart variation and a crepes food cart variation
- Added a wooden table and stool + table variations for the new food carts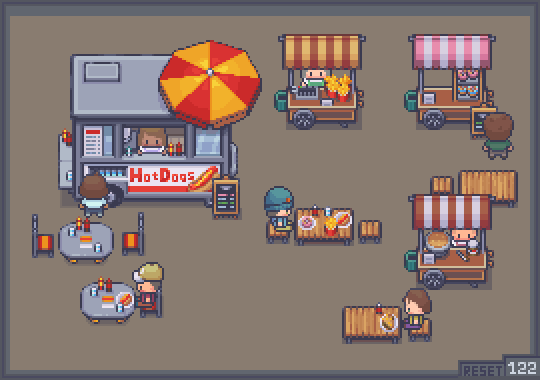 See you and happy game-making! :)
Files
Modern_Exteriors_v14.5.zip
36 MB
81 days ago
Get Modern exteriors - RPG Tileset [16X16]
Comments
Log in with itch.io to leave a comment.
This is just too cute haha
Oooh this looks great!

I'm a little behind on the updates so I'm sorry in advance if this was already asked or answered, but do you have any plans to do a building that could work as a library or a university type building?
This is really great work, thank you!
Thanks Screm! University/School will be the next building to be added!
Food trucks!! :3 Awesome!
aaaa i love these food carts!!! they look SO CUTE