Modern exteriors - RPG Tileset [16X16]
124th update: Metropolis 43/?
---
update v14.7
The "Metropolis" update series will include tons of new buildings and elements for your city, with the goal to supply a complete and realistic city tileset
more food carts in the next updates
- Added an Ice Cream truck
- Added 3 fallen ice creams (both sides)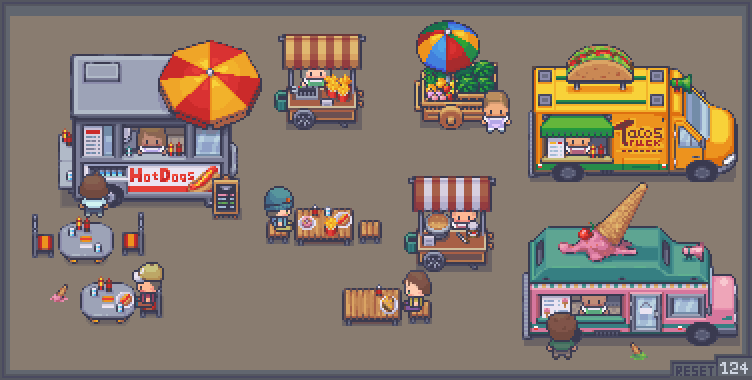 See you and happy game-making! :)
Files
Modern_Exteriors_v14.7.zip
37 MB
79 days ago
Get Modern exteriors - RPG Tileset [16X16]
Comments
Log in with itch.io to leave a comment.
Yuss ice cream for the beach 🏖️
I especially love the fallen ice creams, great touch
Now we have the complete county fair package

The cuteness is overwhelming :grin:
Did you design the dropped cone for the ice cream truck first, and then thought about having dropped ice cream sprites ? Or the other way around ?
Some ideas… Would be nice to have empty versions of the small carts, so people can put in their own stuff (for example a florist cart using plant pots from the garden areas, or stuff from the interiors asset pack).
And also modular version of the trucks. The text, the signs on the roof, the loudspeaker and even the window could be separate add-ons (like the graffiti in the early buildings).
So for example the "basic" taco truck is perfect as a transport or delivery truck. And the basic ice cream truck with a recolor could be an old-school camper bus (to add to the camping).
Oh, i see that you have some of these suggestions done already in past updates. I have been busy for a while and just catching up with previous updates. You rock !
Don't worry feral and thanks for all those ideas!

I designed the big dropped cone first, then I thought it would have been cool to actually have dropped cones ahahah

I'm added some truck variations today that don't have the loudspeakers and the signs!
Gonna add more variations in the next update

im living for this ice cream truck!!
Gasp! The ice cream cones! Noooo!!! x)
Are there sprites that eat ice cream yet?
Ahahaah sometimes it happens!
Not yet, I should be able to add one that overlaps the smartphone animation mmmhh