Modern exteriors - RPG Tileset [16X16]
125th update: Metropolis 44/?
---
update v14.8
The "Metropolis" update series will include tons of new buildings and elements for your city, with the goal to supply a complete and realistic city tileset
more food carts in the next updates
- Added a Pizza sort of vehicle and the pizza sprite on the wooden table
- Added all the trucks' tops without the signs or stuff on them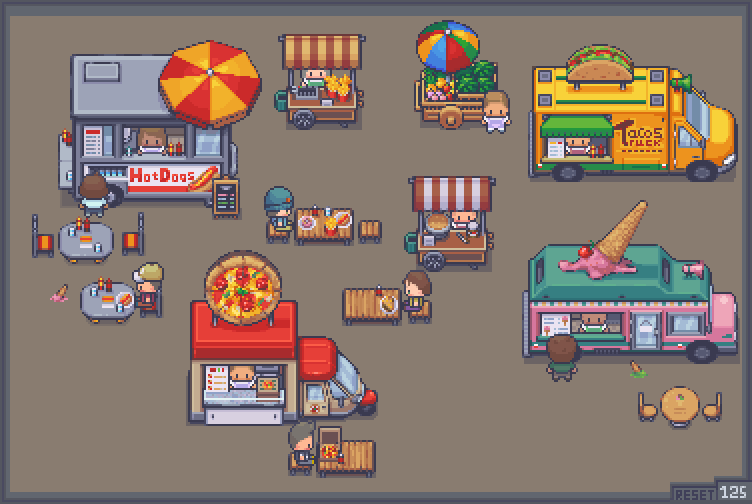 See you and happy game-making! :)
Files
Modern_Exteriors_v14.8.zip
37 MB
77 days ago
Get Modern exteriors - RPG Tileset [16X16]
Comments
Log in with itch.io to leave a comment.
The Pizza Tuk Tuk is everything haha
Nice! We'd love to see those cars moving too.
It's on the list, but not now cause it would take soo much time and I want to design some more urban building before <3
Oh yes! Pizza and Ice cream! thank you :)
Hey LimeZu, I was busy with exams so I didn't really see your reply which was 12 days ago until now. I'd asked for a gun store and you said you'd forgotten about it and would make it in the next update. I just checked out the updates but couldn't find it :( I don't have a reference building unfortunately.
hey no worries Penguin! I was waiting for you to reply to have a reference! Ok, I'm gonna draw a gun shop ground floor for the floor-modular buildings (like the bait shop or the bakery)
Oh i always love the little pizza trucks!!