Modern exteriors - RPG Tileset [16X16]
158th update: Discord Suggestions 1 - 10/14
---
update v18.1
"Discord Suggestions" is a short series that will feature random prompts from
the #suggestions channel on our Discord Server.

The aim of this series is to chop down the long suggestion list, without
having to wait a specific theme.

Each batch will last 5-10 updates and is planned on a bi-monthly basis (~)
-
- Added the diagonal modular variations to the junkyard fence tileset
- Added a crowbar and a bent fence variation
- Added a fallen car wreckage (3 colors)
- Added piles of trash + some old furnitures and props to place on them
- Updated the theme files with the new stuff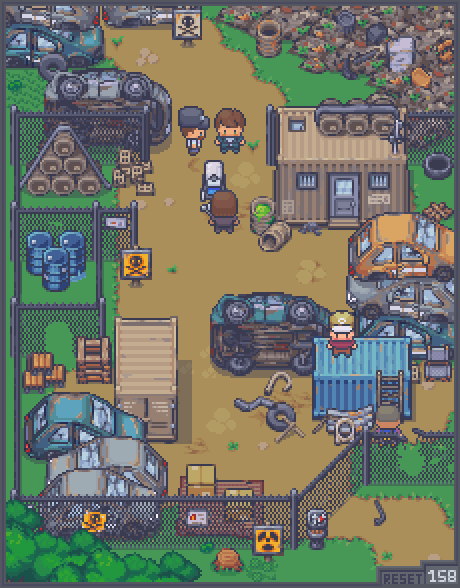 car wreckage drawing process (Discord Server for more)
See you and happy game-making! :)
Files
Modern_Exteriors_v22.8
96 MB
Get Modern exteriors - RPG Tileset [16X16]
Comments
Log in with itch.io to leave a comment.
Don't you hate when NPCs block the exit for no apparent reason?
ohh the trash piles look great! You did amazing with that :0 How modular are they?
Thanks Crypitc, it has been quite a challenge to pull them out! Atm they are not modular, but I'll try to make a modular version next! <3
o7 godspeed! You're doing an amazing job!
wow, this is perfect how can i join the discord server?
once again just incredible work man. I hope you make enough to live off for all this work, you could easily charge more
Woah , the car is awesome! Could you put in a version without the rust on the top? It'd be great for showing a car crash.