Modern interiors - RPG Tileset [16X16]
103th update: Lecture Hall 3/6 + Characters improvment
---
update v11.4
-
- Added some wall speakers and a modular projector screen
- Added a chair with a little desk (2 colors) and a red slim carpet
- Added an idle back animation to each character (so they can sit from the back on the chairs)
- Added the run animation to the conference man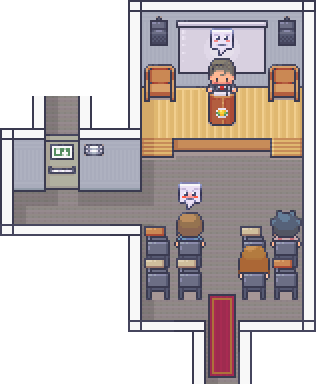 * Everyone who already bought the asset can get the new stuff for free!
See you and happy game-making! :)
Files
Modern_Interiors_v11.4.zip
8 MB
63 days ago
Get Modern interiors - RPG Tileset [16X16]
Comments
Log in with itch.io to leave a comment.
Cool! Movie night? I'll bring the popcorn! :)
The sitting characters are such great additions! Thank you for updating xD

You are welcome! They had to be sitting in such theme ehehe
Can I add some more suggestions for updates? I don't mind waiting for them, please take the time you need!
+ Additional idle animations (not just front and back, but left and right too).
+ A sleeping room: with bean bags, comfy sofas and chairs etc. It's a room used for short naps, kind of different from a bedroom.
Thank you!!

Hi Nory, it's always nice to read your ideas!
The additional idle animations will surely be added soon ;)
I've scheduled the sleeping room, it's probably going in the early 2021!