Modern interiors - RPG Tileset [16X16]
(Today I decided to take a day off to properly celebrate Christmas with my family)
Merry Christmas!
I hope everyone had a great day with the loved people
-
- Added 3 more characters and tons of furniture to the Free version
- A few days ago the asset reached 10k downloads, so I made a little banner to show on the main page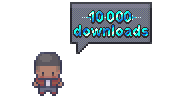 Files
Modern_Interiors_Free_v2.1.zip
504 kB
31 days ago
Get Modern interiors - RPG Tileset [16X16]
Comments
Log in with itch.io to leave a comment.
Wow! Congrats and Merry Christmas!
Woa congrats on the 10k downloads, and the $4k milestone also! Really when I graduate and get a job I'll definitely pay more T_T I feel bad for paying so little for this amount of work!
Wish you a merry Christmas with your family! Stay warm and healthy too!