Modern interiors - RPG Tileset [16X16]
update v31.2
- Let's start this new theme, that will features many different museum types!
-
- Improved the 3d walls and added to each one the tiles to make the 3-tiles height walls
- Added a museum item displayer (3 types of glass)
- Added an ancient pot to display (3 versions) and an item info sheet (2 versions)
- Added some ancient pot shards to display
-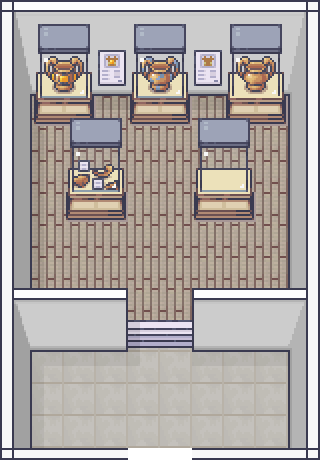 *Everyone who already bought the asset can get the new stuff for free
See you and happy game-making! :)
Files
Modern_Interiors_v31.2.zip
49 MB
Jun 11, 2021
Get Modern interiors - RPG Tileset [16X16]
Comments
Log in with itch.io to leave a comment.
Love the info sheets! They would work well in the school too
Nice ones! Nice theme choise
An excellent idea! Museum/art theme will go well with a development of mine. Looking forward to the rest!
Uhh great to hear, feel free to share your project in case ;)
Still putting the game together and filling out the story, the usual...time being the enemy :P will let you know though when more developed, keep up the awesome designs! :)
OMG!!!!! I can't believe you did it aaaaaaaaa <3 <3 <3 <3 <3
You are just AWESOME!!!!!!!!
A museum is such a great idea! Also I really love these new walls. It's one of my daily rituals to look what awesome new stuff you brought us again and you never disappoint. Thank you!